A fresh coat of paint, or a total color switch, can change the mood of any room. So, when you get the itch to repaint, run to Andriots. BUT! Before you begin painting, it's crucial to know which paint is best for the project you're taking on. By the end of this blog, you'll know the ideal paint for a kitchen and have a few recommendations.
Interior vs. Exterior Paint
First, let's talk about the difference between interior and exterior paint. Exterior paint is made to hold up against the weather and requires more pigment than interior paint. The extra pigment gives it a higher opacity level which keeps the color from fading fast and makes it harder to see dirt – essential for outdoor surfaces.
Interior paint can work on various surfaces and has less pigment than exterior. Due to this, interior paint requires regular cleaning and maintenance or repainting depending on the state of disrepair. To avoid unnecessary repainting and maintenance, you must know which paints are best for which rooms.
Why different kinds for different rooms?
The quick answer is that each room has a different purpose. A bedroom will get more use than a formal living room, and a kitchen will get more use than a basement. The usage of the space, lighting and microclimate significantly affects which paints are used on the walls. In addition, the paint can vary in composition and sheen. For example, a bedroom requires a 100-percent acrylic latex formula with a flat or greater sheen paint. In contrast, a bathroom requires a latex enamel formula with a satin or glossy sheen.
The Most suitable Paint for Kitchens
Since kitchens are high-traffic areas, you want durable and glossy paint. The glossy sheen permits easy cleaning; hello, parents with young kids! Although semi-gloss is our preference, you could also use eggshell or satin paint for your kitchen.
Sheen Level: 14-25%
Satin paint is a mid-sheen finish that is highly durable. It's going to appear more matte than semi-gloss but glossier than eggshell. In addition, the sheen gives a reflective look to your walls, making light appear to bounce off the finish.
Sheen Level: 12-20%
Eggshell is as close as one can get to matte without being matte. It's also incredibly durable, which means easy to clean, and the slight glossiness will emulate a soft glow. Homes and Gardens says eggshell is best used for living room, bathroom and kitchen walls.
Sheen Level: 35-60%
Of the glossy family, semi-gloss has the lowest sheen. Similar to satin, the sheen will create an illusion of a larger space by "bouncing" light around. However, while semi-gloss is the most hardwearing and resistant, the glossier finish makes it easier to see dents and scuffs.
Between the three kinds, you really can't go wrong. 
It simply depends on what works best for your home and your situation. So check out these recommendations that can be picked up in-store or shipped.
Our recommendations
The ceramic additive in this formula provides additional stain resistance, durability and washability, perfect for a high-traffic, sometimes messy kitchen. With this paint, you don't have to worry about color retention as the colors will be as vibrant in 3 years as the day it's painted on the walls. If you prefer eggshell rather than semi-gloss, we also have that option.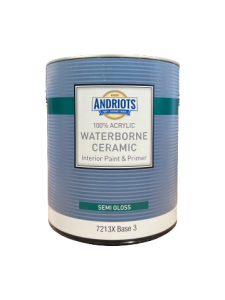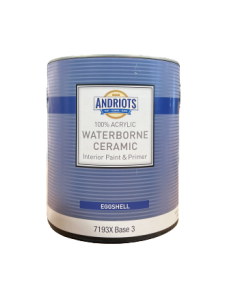 Benjamin Moore's Natura ® paint has earned the asthma and allergy friendly Certification Mark by the Asthma and Allergy friendly ® Certification Program. This 100% acrylic paint is spatter-resistant and available in thousands of colors. In addition, this line comes in eggshell and semi-gloss.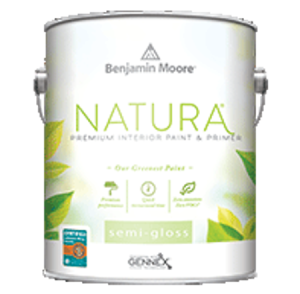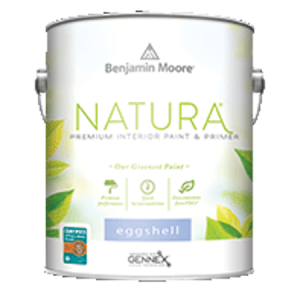 Farrow & Ball crafts their paint a bit differently. They offer a variety of colors to choose from that all come in four finishes: estate emulsion, estate eggshell, modern emulsion and modern eggshell. For the kitchen, choose the modern eggshell sheen in any color. Their modern eggshell finish is the most durable paint with a 40% sheen (compared to a 20% sheen for estate eggshell). Light Blue is one of Farrow & Ball's signature color options and has hints of silver that would make a beautiful backdrop for your kitchen.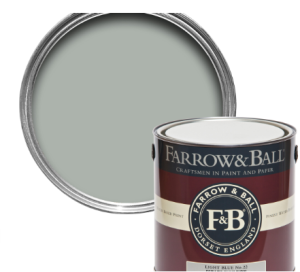 To recap…
Pick a sheen: satin, eggshell or semi-gloss
Pick a brand: Andriots, Benjamin Moore or Farrow & Ball
Pick a color.
Happy painting!