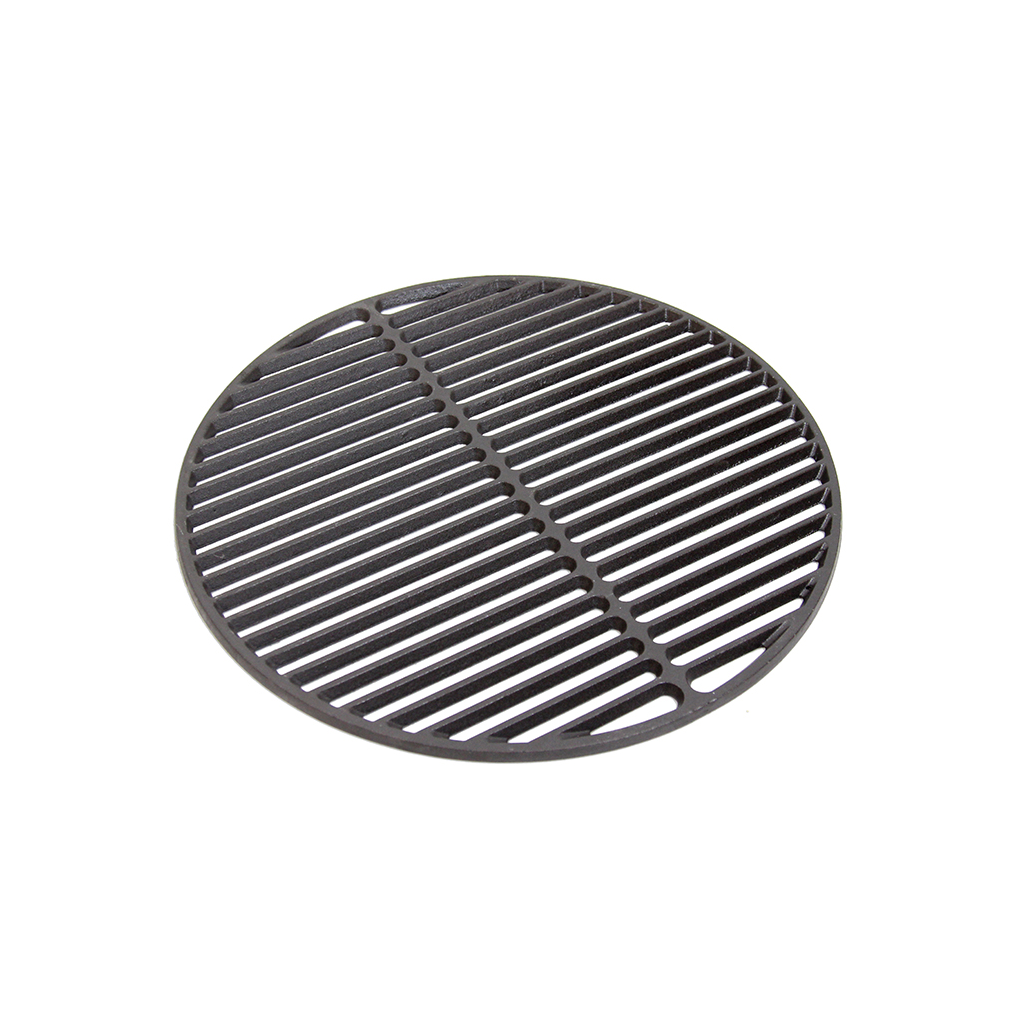 Cast Iron Dual Side Grid Large
$59.95
Description
10000 in stock
Brand:
Big Green Egg
The Big Green Egg Cast Iron Grid is an alternative grilling surface. The grid provides high heat retention and even heat distribution. Cast Iron is perfect for searing at high temperatures.
The Big Green Egg Cast Iron Grid is two sided. The grid's thin edge side is best for creating grill marks. Drop the meat on the grid, sear till the grid marks show, turn the meat 90? and continue searing to develop the crosshatch pattern. If you can, move the meat to a new, unused, portion of the grid.
The grid's wider flat side is perfect for seafood, fish or other foods that need more grid surface underneath. The flat side is ideal for holding thin foods that can easily fall through a Stainless grid.
The XL Cast Iron Grid by Egg comes in a half moon size. Use two or pair it with the XL Stainless Grid by Egg for a full XL cooking surface. The Small and MiniMax Cast Iron Grids by Egg are the same grid. They are interchangeable.
Note: We do not recommend elevating Cast Iron Grids in the grills, as it pulls the grids away from the heat they need to produce the nice grill marks. Closer to the lump is best – makes it easier for the cast iron to heat up and sear in the grill marks. Also, heavier is better than lighter with cast iron. More mass (weight) can absorb more heat. More heat means better grill marks. If the grids are going directly on the fire ring, you might consider Kamado Joe's Half Moon Grids. They are much heavier than Egg grids.
The Big Green Egg Cast Iron Grids come with a preseason protective coating.
Manufactured by Big Green Egg Ceramic Grills.
Cast Iron Grids with Dual Sides for Big Green Egg Ceramic Grills
Small EGG 13 in / 33 cm, 122971, 665719122971
MiniMax EGG 13 in / 33 cm, 122971, 665719122971
Medium EGG 15.75″ for Medium EGG,126405, 665719126405
Large Half Moon for Large EGG, 120786, 665719120786
Large Full Round for Large EGG, 122957, 665719122957
XL Half Moon Cast Iron Dual Side Grid for XL EGG 121233, 0665719121233